I love washed linen bedding. It looks both chic and laid-back, it's cool in the summer, and soft and cozy in the winter. I've been eyeing the above linens from Bella Notte on Layla Grayce for so long that I even had them on my wedding registry. But, like most things beautiful and luxurious, they are really, really expensive. Instead of forking over the cash, I decided to DIY myself a linen duvet cover and pillow case–so I went to the fabric store over the weekend and bought their softest linen and some teal blue dye.
What I used:
–Seven yards of the softest linen I could find ($15/yard) (for my king-sized bed)
-Teal dye
-Tassel trim
-Sewing Machine
-Five Buttons
-Scissors
What I did: I had this amazing long fringe trim leftover from a previous project and dyed it together with the fabric.
I used a king-size sheet as a pattern, and cut the fabric into the same shape and dimension as the sheet. (I had to sew two pieces of fabric together to make one large square.)
Next I sewed the trim onto two opposite sides of the square.
I then took the sheet and sewed it to three of the fours sides of the large linen square. (I sewed it inside-out so that the seams would be hidden on the inside.) I left the top side open so that there would be a place for the blanket.
I then sewed on a few buttons a cut some button holes to match on the open side.
The whole project cost me $110 in fabric and dye and about three hours.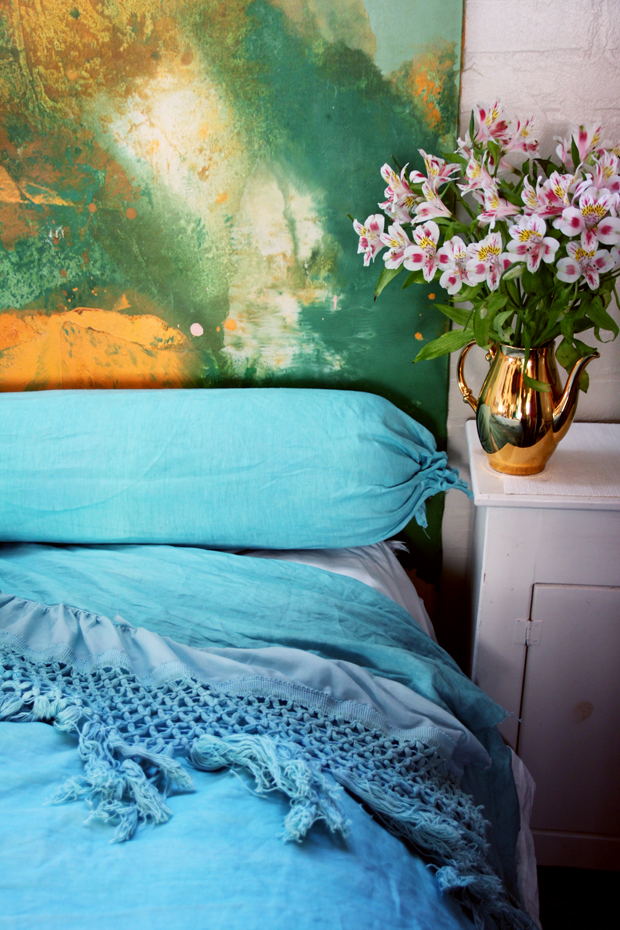 I finally have the linen duvet I've been after!