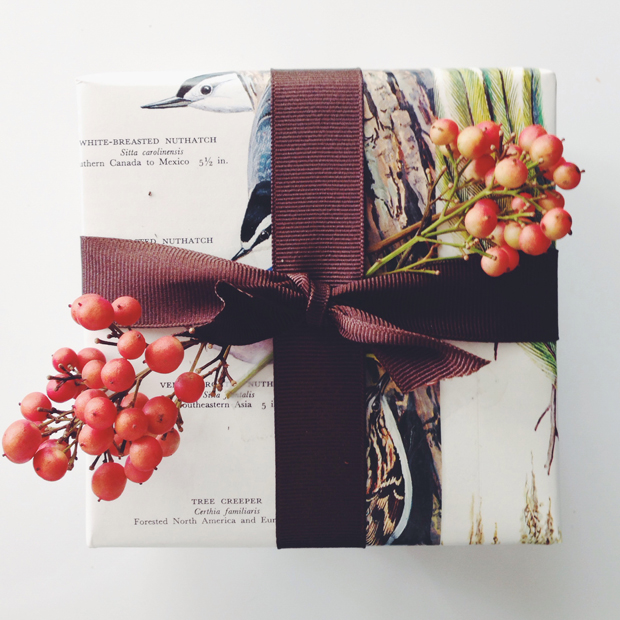 My parents ran a residential treatment program for abused and neglected girls when I was growing up, and it was my job to wrap the donated presents for the 50+ girls who would spend their Christmas at the group home. It was usually around 200 gifts and every year I had to get creative to make the presents look really special. I knew how important it was for the gifts to look like they were coming from the heart–and not just donated from random people for 'children in need.'
I think that is where my passion for creative gift wrap comes from. I know firsthand how much a beautifully wrapped gift can enhance the whole experience of giving and receiving.  Over the years I've shared several fun gift wrap ideas, and this year, my ideas stem from an old ornithology book that  I bought many years ago at the Strand Bookstore for the sole purpose of using the bird images for different projects.  So for this wrap job, I either taped together pages from the book to use the pages as wrapping, or I cut out the birds and taped them to a coil I made from wire to create a 'popup' effect. I even put berries or little tags in the birdies mouths to really enhance the effect. I hope you have a blast wrapping all of your gifts with creativity, care and love this year!
If you want even more ideas, the team over at Pinterest has asked me to curate a pinboard just for giftwrap–so click on over to check out la crème de la crème.