You may have had a chance to follow along with my #JungalowTakeover of the West Elm Instagram account over the weekend, where I shared my process of decorating the Jungalow HQ. And today I'm thrilled to share with you my 'after' pics of the studio. It's been amazingly fun having some more space to house all my pretty crap and also really great to have a place to go to in the morning and collaborate with my team, exchange ideas and be all productive.
This is my desk area. I hung a kilim rug that I believe is either Romanian or Bulgarian. I asked the guy at that Rose Bowl Flea when I bought it and now I forget. I love the colors, the floral motif and the 'pixelated' look of it. The studio can also get cold (it's in a big loft/warehouse space) and I feel like having this up on the wall keeps me a little bit warmer. The rug on the floor is from Loloi.

My industrial desk and the green bins adjacent are also vintage.
It's so nice to have a desk so I can finally work off of a big screen. I've been working from a laptop for years and it's great t0 finally stretch out a bit.
I wanted to have a little lounge area in the studio–I also needed a sofa for styling when I need to stage the studio like it's a home. I opted for the Finn sofa at West Elm because it's petite but also can hold three people if need be. I also wanted something neutral but not generic, and the peg legs and little curves at the arm do just that. My coffeetable is just a bench covered in some amazing indido-dyed and embroidered fabric from Mali. The planter is from Modernica, the side table from Target.
Behind the sofa I've collaged favorite magazine clippings that I've been hoarding for years.I also hung an acrylic shelf over the clippings–I feel like this gives it an almost wallpaper effect. The brass trojan horse was an eBay find.
I also hung up these pendant lamps that I've had for years. I haven't had a place to put them up until now–and while they don't give off a ton of light they create a warm ambiance.
FINALLY a place for all of my textiles, pillows and props. They have been in boxes stashed all over my home for the longest time and I finally can have a place to dispay them and have easy access to them for when I need them. Plus they just make me happy. I picked these minimal industrial-style bookcases to house all my goodies. Most of my pillows are from Morocco and Turkey. Some of them are from Marika Wagle's online shop and some are from Loloi.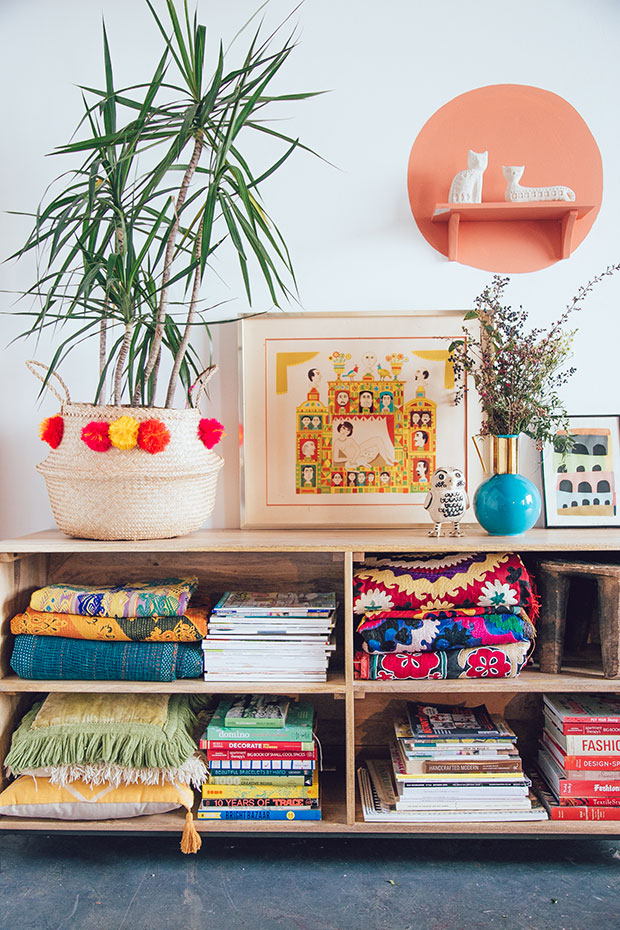 I also, of course, painted one of my signature 'spots' on the wall–this time in coral. Underneath it, I have a simple rustic storage bookcase that's holding some of my books and kantha and suzani blankets. I also scored a couple of pompom baskets from Eliza Gran.
My Jungalow hanging planter also makes a guest star appearance (duh!)

Then there is the hutch from Mexico that I'm clearly obsessed with. I found it on Craigslist for $150. (Which reminds me that I have a new column on my facebook where I share my my CL find with you all!) …and then painted it Coral Flower by Glidden. On either side I've hung an ivy plant and a fishhook succulent. Inside the drawer is a zeezee plant.

And how great are these bowls?!

I opted for a larger formal dining table. I don't have one at home which has made shotting tablescapes a challenge in the past. Also Sara and Danae who work with me needed a place to work from–so this table is doing double duty.   
I think the most controversial thing that I did during the IG takeover was to paint the Bentwood Pendant. Folks were nervous. But I love how it came out.
I used these colors to paint the pendant:
   
And here's a shot of the whole space! Somehow we managed to fit all my stuff in here and make it look decent.
AND HERE"S HOW TO GET THE LOOK:

Finn Sofa *// Bentwood Pendant *//Rustic Storage Bookcase *//Carroll Farm Table* // Pipe Tower Bookcase*//Berber Pillows // Pine Hutch //Baskets* // Romanian Kilim 
For tips on how to decorate for small spaces, head on over to Front and Main, West Elm's blog, where I'm giving some insights on how to pack a lot in to a small space but still keep things pretty. I hope you enjoyed the studio tour–let me know I missed any sources or if you have any questions! And a big thank you to West Elm, Danae and Sara for helping to make the space look so jungalicious. Longest post ever. Thanks for making it to the end haha.
Photography by Danae Horst and Justina Blakeney. *Courtesy of West Elm/Eliza Gran