Do you find yourself proclaiming 'OMG I wanna live here!' when you walk into a botanical garden filled to the brim with all sorts of colorful plants? Yeah, we do too!
On a recent adventure exploring one of our all-time fave plant-filled destinations, the Huntington Botanical Gardens in San Marino, CA, we felt overwhelmed with all the incredible design inspiration the gardens have to offer. From the oddly-shaped cacti prompting us to dream up new patterns and prints, to the vibrant array of soothing hues & saturated statement colors – it's safe to say we are all about it. We really dig bringing home fresh, new ideas sparked during our local trips & travels.
So, we're likely all familiar with a plant-based lifestyle, but how about switchin' it up with a design-driven approach… one that makes us feel like we're living in a wild, botanical garden?! Take a peek at how we're cultivating a plant-based color palette in our homes through paint, décor, and of course all the plants! To do this, we took a super close look at some of the moments Justina Blakeney captured through her photography.
We're getting some far out 70s vibes from this group of colors. The warm golden hues play off of the greens with a rich shade of beige pulling it all together.
Benjamin Moore: Morgan Hill Gold | Brandon Beige | Misted Fern | Jade Romanesque
Bring home the look:
Madi Velvet Ottoman in Green
Enough Plants by Alja Horvat Art Print
Small Antique Brass Vela Pendant by Justina Blakeney®
Rustic Bowl Planter
Pinta Quilt Set by Justina Blakeney®
This multi-hued cactus is such a stunner, we still can't believe it's a real thing! Wouldn't these soft pastels be sweet in a lil' kiddo's room? The minty greens feel fresh & fun paired with mellow shades of orchid.
Benjamin Moore: Kensington Green | Veranda View | Naples Sunset | Lazy Afternoon
Bring home the look:
Tula Hanging Macrame Pendant by Justina Blakeney®
Heart in Hand Pillow by Justina Blakeney®
Shaggy Pouf in Gray
Kera Throw
This image has similar hues to the previous one, but feels a bit more sophisticated. We're feelin' the deep blues and greens against the paler shades for added contrast. The deeper tones would sure look stellar on a refurbished antique piece.
Benjamin Moore: Oriental Iris | Blue Gaspe | Garden Cucumber | Dreamcatcher
Bring home the look:
Sage Jute Round Rug
Dorna Tassel Mirror by Justina Blakeney®
Shibori Ceramic Vase
Succulent Tea Light Holder in Green
This one right here is giving us life! The movement, shapes and vibrant colors in this whimsical plant are seriously on another level. We pulled out the warmer terra-cotta, rust and clay tones of the image – which happen to some of our fave hues at the moment!
Benjamin Moore: Crimson | Geranium | El Cajon Clay | Onondaga Clay
Bring home the look:
Loren Runner
Burnt Sienna Jute Round Rug
Mulberry Harlequin Pillow by Justina Blakeney®
Rayan Leaf by Justina Blakeney®
Funnel Planter & Base
This range of cool blue-gray shades with the warmer orange and subtle pop of soft green is the whole package. The deep blue acts as a neutral, allowing the other shades to pop beautifully against it. We picture this as a killer color palette for a modern office space – refreshing, crisp and easy on the eyes.
Benjamin Moore: Hudson Bay | Water's Edge | Bryce Canyon | Maiden-Hair Fern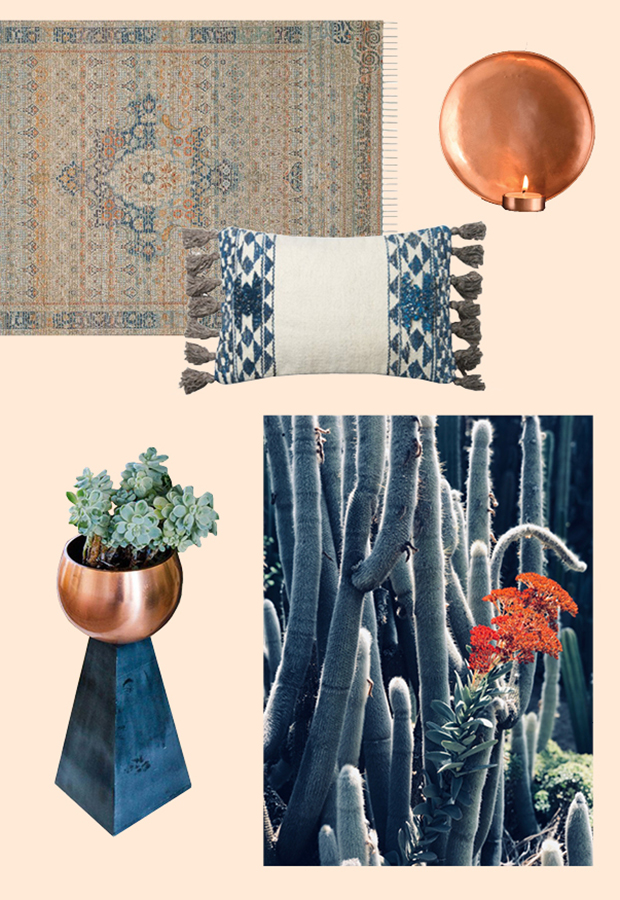 Bring home the look:
Cornelia Sunset Rug by Justina Blakeney®
Tassel Indigo Shapes Pillow
Set of 2 Copper Tea Light Wall Sconces
Small Formo Planter by Justina Blakeney®
We love showcasing all of the greenery-inspired colors that immediately take us back to the fascinating feel of the gardens. We hope it evokes the same magical, botanical vibes for y'all, too!