This post was created in partnership with Domino and sponsored by Benjamin Moore.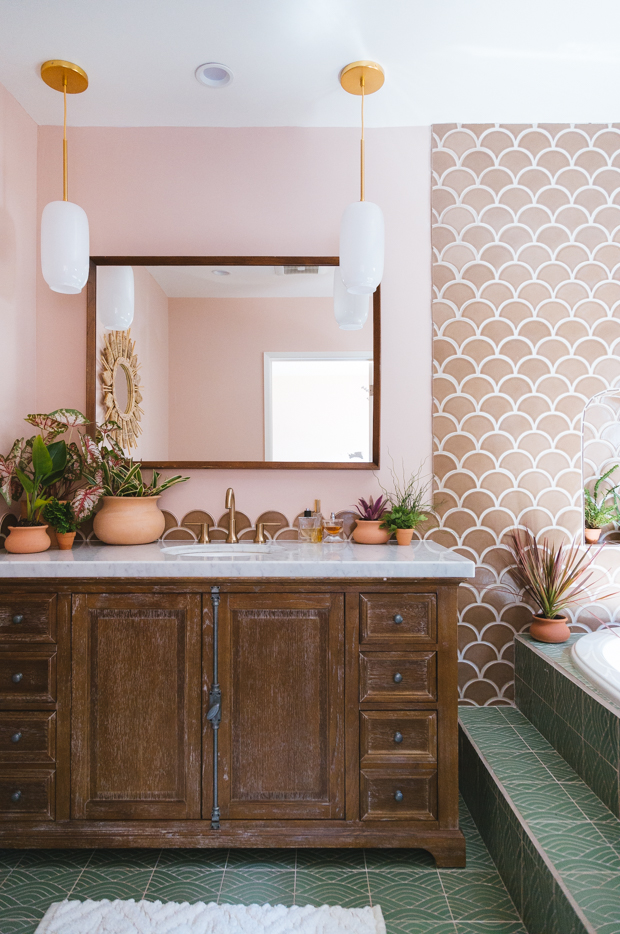 Every single time I paint a room I'm shocked at how a single can of paint can completely change a vibe in a space. But it's not just the quality of color that has dramatic effect. The more spaces I decorate, the more I learn that the attributes of the paint play a huge role too. From durability to clean-ability, from glossy to velvety or chalky to matte, how a paint finish looks and acts can be as mood-enhancing (or dampening!) as the color itself. During the journey of remodeling our parents' condo with my sister, Faith, I was asked by Domino and Benjamin Moore to try Aura Bath and Spa. It is a quality paint that can be used with any of the thousands of Benjamin Moore color options. A long-time fan of Benjamin Moore paint, I was excited to try out Aura Bath and Spa in my parents' new master bath.
This was a tricky space. My parents' condo used to belong to my great grandmother Ida (yes, she is who my daughter Ida was named after) and my Papa Si. I grew up visiting them frequently in this condo, and have so many warm memories of my Grammy Ida sneaking me candy bars from the depths of her walk-in-closet. It had been thirty years since the condo had been updated, and since my Papa Si had been in a wheelchair, the master bathroom was just a open box so that he could maneuver around, as you can see in the "before" photo below.
Once we opened up the wall, we found a lot of moisture and mold inside the walls and we knew this was going to have to be a total remodel.
One of the activities my mom and sister and I like to do together is go to the spa. We often play hooky and the three of us will meet up at the Korean spa and catch up while soaking in mugwart bath or jacuzzi. But lately, because of a breathing condition that my mother suffers from, spa trips have been made more difficult because the chlorine makes it hard for her to breathe. So my sister and I decided we really wanted to bring the spa to my mom instead. Above is our mood board for the space.
We wanted the space to feel both earthy and luxurious. We chose soft tan/brown/peach/terra-cottas and jade greens for the tile and accents. We wanted warm, soft tones — reclaimed wood and rattan accents, with luxe hints of gold.
It took almost two months to complete the remodel. The bath, vanity and new open shower were all in. Admittedly, once the beautiful, artisanal tile was up on the wall, it was reading a little more brown than we had imagined from the sample at certain times of day. It's crazy how natural light, placement, reflections and juxtaposition of color can change the tonality. We knew that we wanted the space to read more as peachy/terra-cotta than brown, so we decided to bring in the peachy/pinky tones with Benjamin Moore's paint. I like to use paint from Benjamin Moore because they're known for quality. The secret is their patented Gennex Color Technology, where their own special colorants and paint come together for a formula that's better, and ensures that the color I pick stays rich and vibrant for years to come.
After sampling several shades, we chose Pink Beach 1172. It's part of the Benjamin Moore Classics color collection, and I find that every single time I choose a color from the Classics collection it looks so rich and full. As soon as we tested it on the wall I knew it was going to bring in the earthy, luxurious spa vibes we were aiming for. Once the paint was dry it was easy to note the difference in the quality of the Aura Bath and Spa paint. My mama described it as velvety and I think she's totally spot on. Also, we were able to use a matte finish, which is pretty amazing for a bathroom with an open shower. Normally, the moisture and humidity created from an open shower would warrant paint with a high gloss, semi-gloss or satin finish but Aura Bath and Spa paint has a beautiful matte finish, is mildew resistant, and is designed specifically for high-moisture areas. It sounds a little cheesy to say that the paint really tied the room together BUT IT REALLY TIED THE ROOM TOGETHER!!
The way the Pink Beach reflects off the tile warms up the entire space and softens the brown undernotes of the tile.

My parents are totally in love with their new bathroom, the colors, the warmth, and the spa vibes. It brings me SO MUCH JOY to see them live in a relaxing refreshed space where they enjoy this next chapter in their lives.
Watch the video of the transformation below:
Sources:
PAINT: Aura Bath and Spa paint in Benjamin Moore Pink Beach
LIGHTS: Sculptural Glass Pebble Pendant in Brass
VANITY: Belhaven Single Cabin Vanity Base
FAUCET: Two Handle Widespread Bathroom Faucet in Champagne Bronze
TILE: Ogee Drop Tile in Nutmeg and Summit Tile in Green Motif from Fireclay Tile
TOWELS: Solid Bath Towels Project 62 + Nate Berkus in Peach
Photos by Justina Blakeney, Design by Faith Blakeney and Justina Blakeney
This post was created in partnership with Domino and sponsored by Benjamin Moore.