Besides being one of my favorite leisurely pass-times, painting and drawing has become a vital part of my business as our fabrics, bedding, wallpaper and rug designs all start out as paintings or drawings– not to mention that we do a pretty decent amount of business selling my art prints as well. Over the years I've noticed how different materials and supplies can inspire new directions and new growth in my work, and I get a lot of questions about what supplies I use most so I thought I'd share my 'essentials' with you.
I LOVE watercolor painting. I love that watercolor paints are easy to travel with and can be used pretty much anywhere. I think that watercolors are very forgiving too – a little bit of water and a napkin you can kind of "erase" mistakes — which I take advantage of frequently. I paint on planes and trains, in cafes and while chilling out watching T.V. at home. I have a travel watercolor set from Windsor Newton that Jason bought for me for my 27th birthday, so I've had it for 12 years! It's got a little built-in jug for water and when the paints run out over time, I just refill them. I tend to use a lot of white when I'm mixing colors, so I usually buy an extra large tube of white paint.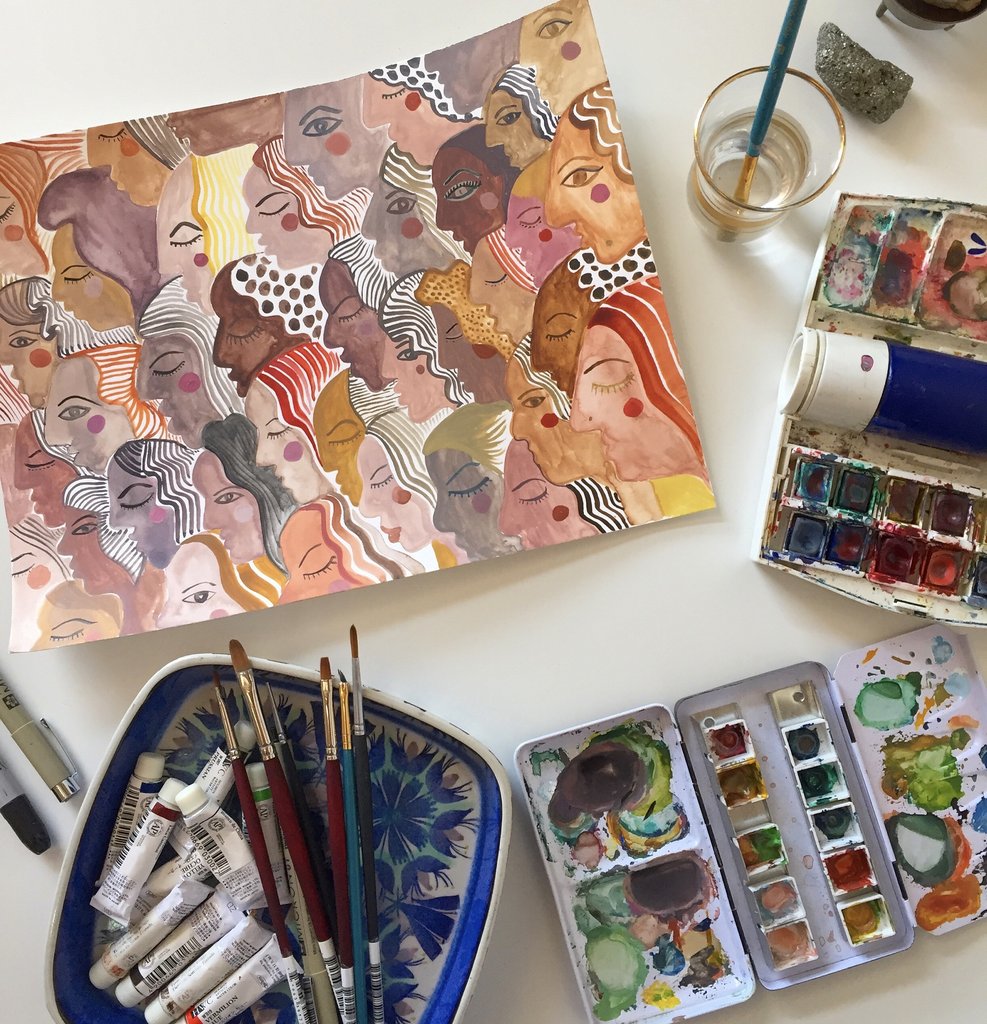 I don't have a set brand of brushes that I like, but I do think it's important to have a really good range of sizes. I like small flat brushes and really fine tipped ones for the details. I do find that slightly more expensive brushes are worth the money though — they don't shed little hairs on the page and last a lot longer. I'd use something like this as a good started set with a good range of tips styles.
View this post on Instagram
Equally, if not more important than the watercolor paints is the paper. I've always preferred cold-pressed watercolor paper over hot-pressed (cold pressed is more textured). I like the way the paint sinks into the paper and it can hold more paint without tearing or 'pilling' the way moist paper sometimes can.  Of the cold-pressed watercolor paper types, I like to paint on a range of sizes and thicknesses, so long as they're easy to remove from the pad, I've had numerous paintings get torn at the very end when I'm trying to remove them from a pad and it's crazy annoying (not a fan of paper blocks for this reason). But my go-to is 300 g paper weight because I do like slightly thicker paper. If you're looking for a good recommendation, try this paper from Arches. It's a little spendy, but worth it for the quality.  The paper I'm using in most of these is cold-pressed rag paper with a deckled edge like this. It is my absolute favorite — so much so, that I almost can't paint on anything else anymore. It's my soul-mate in paper ;).
View this post on Instagram
If you've been following along here for a while, you know I have a practice of doing one-line-drawings every day. It's my 'creative yoga', if you will, and one of the reasons I love doing them so much is that you don't need a lot of fancy supplies. Really all you need is a pen and a piece of paper. I do gravitate towards using Sharpies for this because you want that continuous line to be even and smooth and with pall-point pens, or other pens like those sometimes the ink 'skips' and then, waahh wahhh, your beautiful continuous line gets messed up. I like the look of black on white paper, but it's also fun to mix it up, I have this Sharpie set and love the green shades. I also love the look of using a paint pen on a black paper for these. Paint pens are a little trickier. It's hard to find good ones for this exercise where the paint doesn't 'skip' — but so far, my favorite is paint pens from Uni-Posca. I use them for more than single line drawings — they're just super fun to work with in general — but my  favorite application is using them on dark papers, like here:
View this post on Instagram
Here they are, all in one place for your shopping pleasure:

2.) Paint refills for the watercolor set 
3.) Brush set
4.) Coldpressed watercolor paper 300 g
5.) Coldpressed watercolor rag paper.
6.) Sharpie Set 
Do you have favorites that you'd like to share? I'd love to hear what your favorite art supplies are! I'm always excited to try new tools and see where they take me.
You can shop my art prints , as well as the art print of some female artists I love here, at Jungalow.