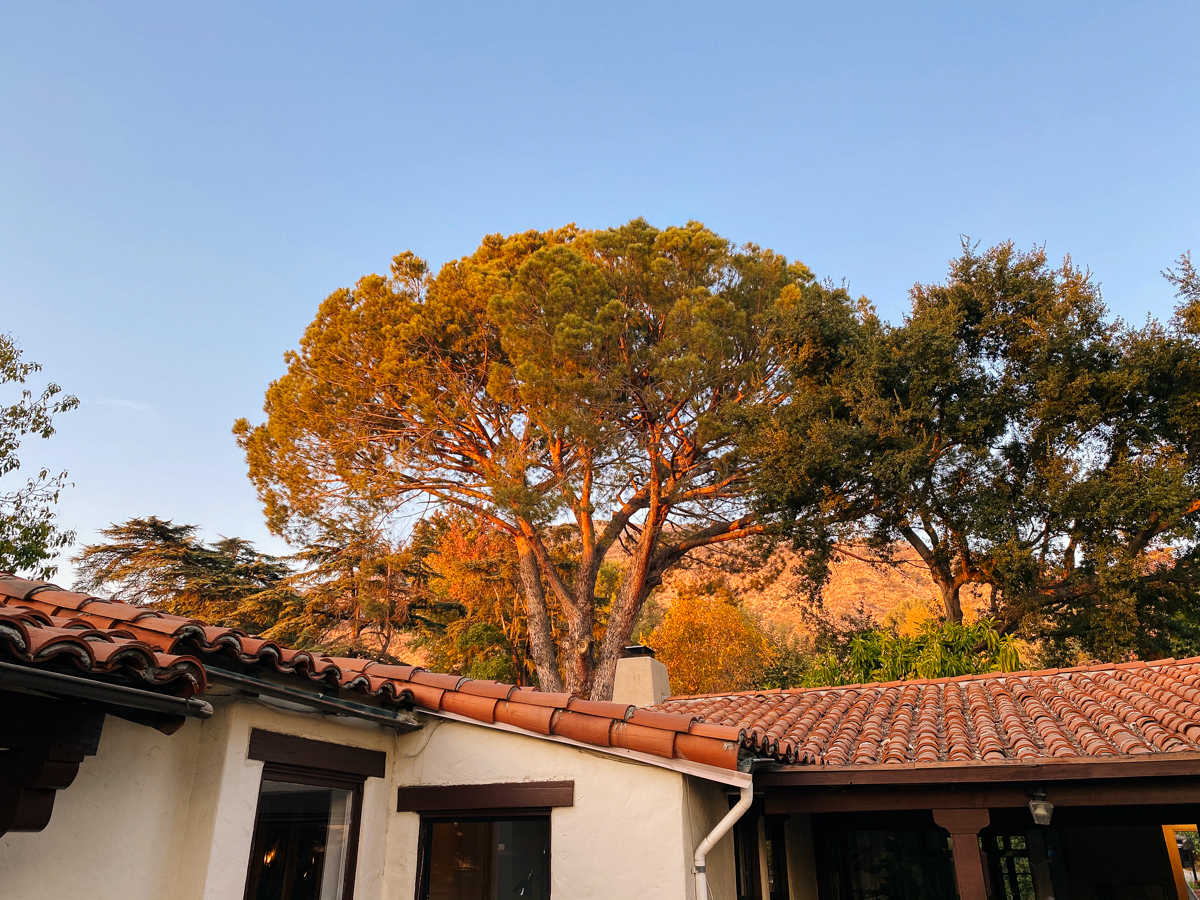 I'm so excited to share that my family and I just got a new house! I have been 'keeping my eye open' for a new home for almost two years. I religiously read new house listings. I'd get notifications every time a new house popped-up that fit my price and location criteria and filters, (must have pool ✓!), and  keywords ("Spanish Style") to further hone in on it. TWO YEARS of looking every day, and one early October morning, this house popped up on my alerts. I read the description, looked at the photos and I passed the phone to Jason and said "THIS IS OUR HOUSE."  It was love at first click for us both.  I texted my mother-in-law because the house is just a mile away from her house and she face-timed me eight minutes later from the house. "You gotta get up here." she said to me. "This is your house!"
This was the first house in two years that I saw that checked every single one of our boxes and then some: more space, lots of greenery, good light, a pool, a fixer that needed some work (so we could make it ours), but with good bones, in a neighborhood we love, and also within our budget.  And then once we saw the place in real life, I just got that feeling deep down that this was our place. The whole mid-century meets Spanish Style vibe really tickles my fancy. The fruit trees. The light. It even has a little art studio down by the pool. Meant to be. The real estate market in and around L.A. is nuts right now (and always) so I knew we'd have to put up a fight in order to get the house — so we went all in, channeled all my Aries energy and just decided to 'go hard' to make sure we got it. It was six weeks of pure anxiety going through the bidding, escrow, and loan process but it was all worth it in the end.
Here's a little peek at what the house looks like today: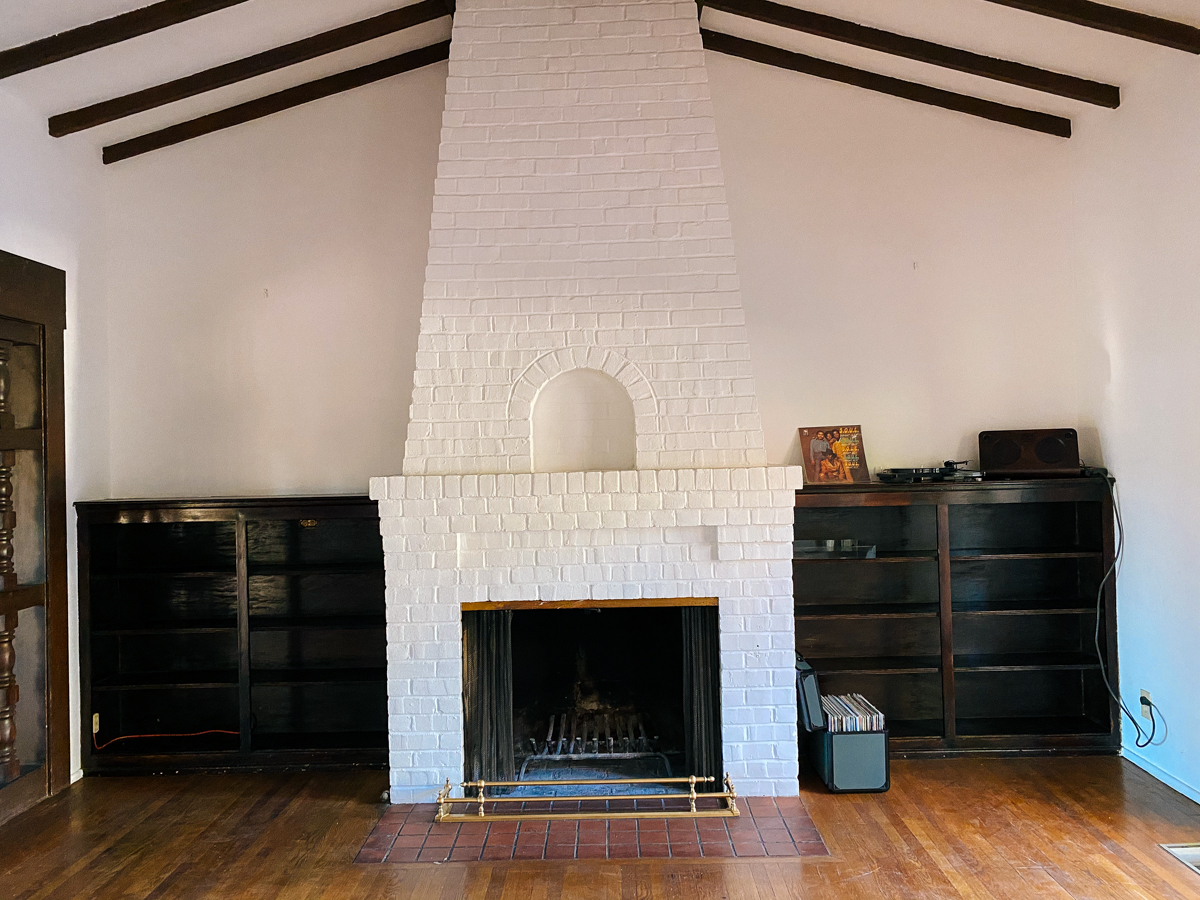 I love the hardwood floors, brick fireplace, and of course, that beamed ceiling!! Every night lie in bed and wonder if I'm gonna leave this room white or paint it some crazy color??
Living Room
Off of the living room, there is this dreamy lanai that leads out to the central courtyard. I've ALWAYS wanted to live in a home that wrapped around a courtyard. It reminds me of a Moroccan riad. I can't wait to fill this space with a thousand plants.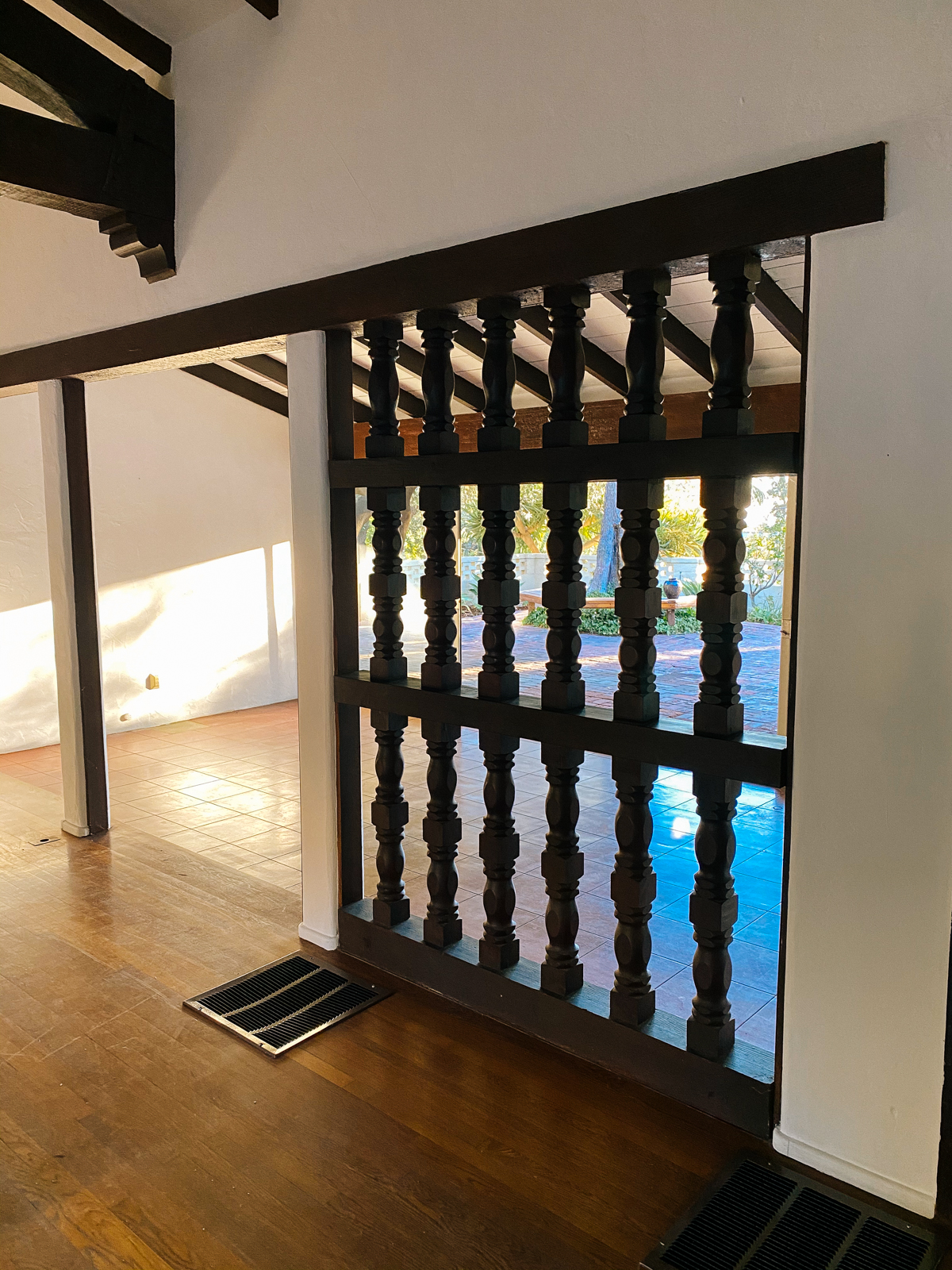 …not sure how I feel about these ornate wooden posts, there's something about them that's fun but I don't like the bars/jail vibe. Thoughts?
This is the view into the kitchen….Excited to make this less awkward and more open.
We are dying to see what lies underneath these florescent lights. We're hoping perhaps there's a gorgeous beamed ceiling up there…keep you posted!
The back courtyard is my favorite part of the house. (Besides the lanai, the pool, the living room and the art studio LOL). But seriously I think this courtyard will be like our daytime living room area–and we really look forward to a time we'll be able to entertain again! The view of the trees is everything!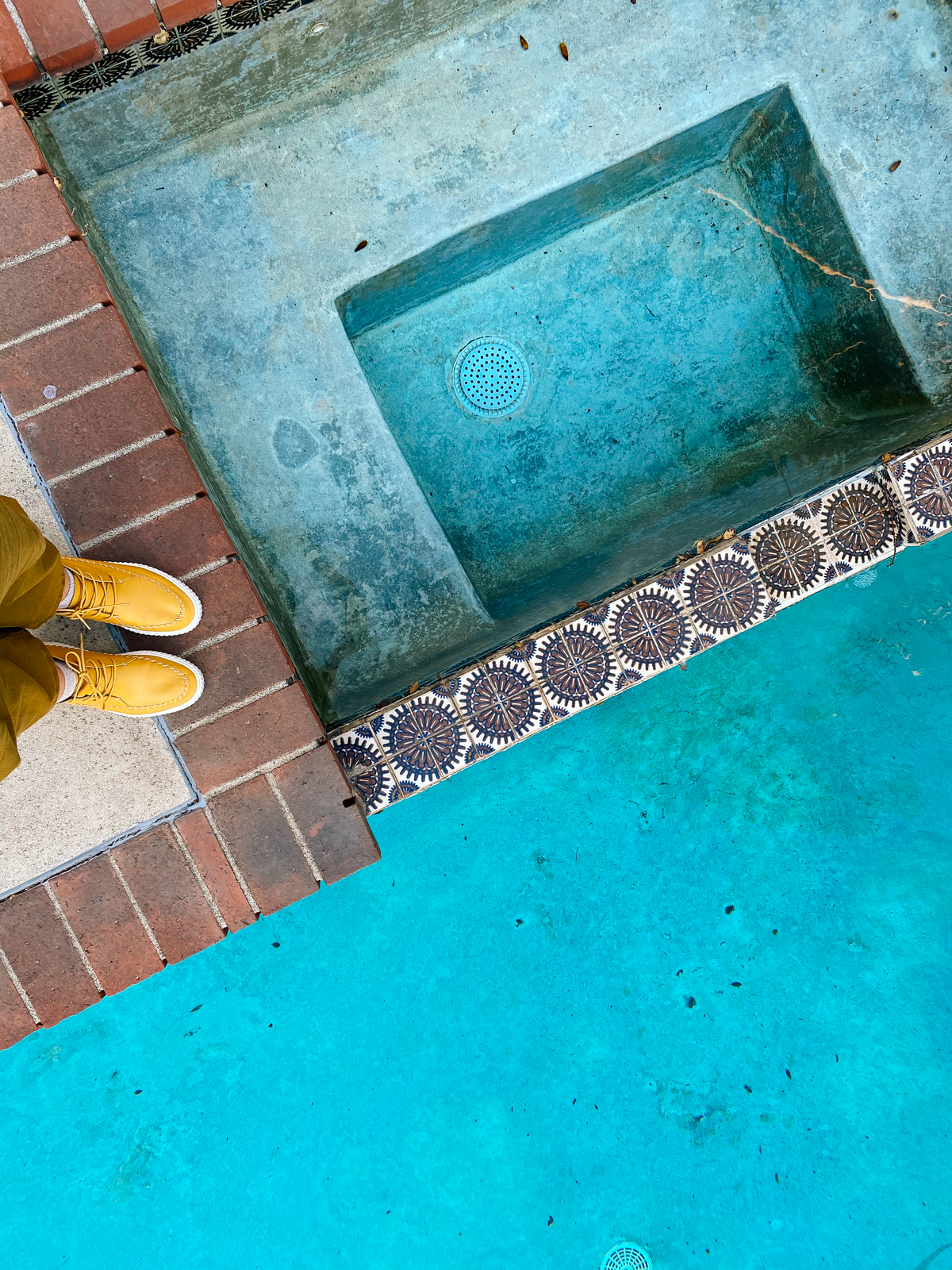 ….and then there's the pool…which has been total  #LIFEGOALS for me.
I'm not even mad about the existing tile!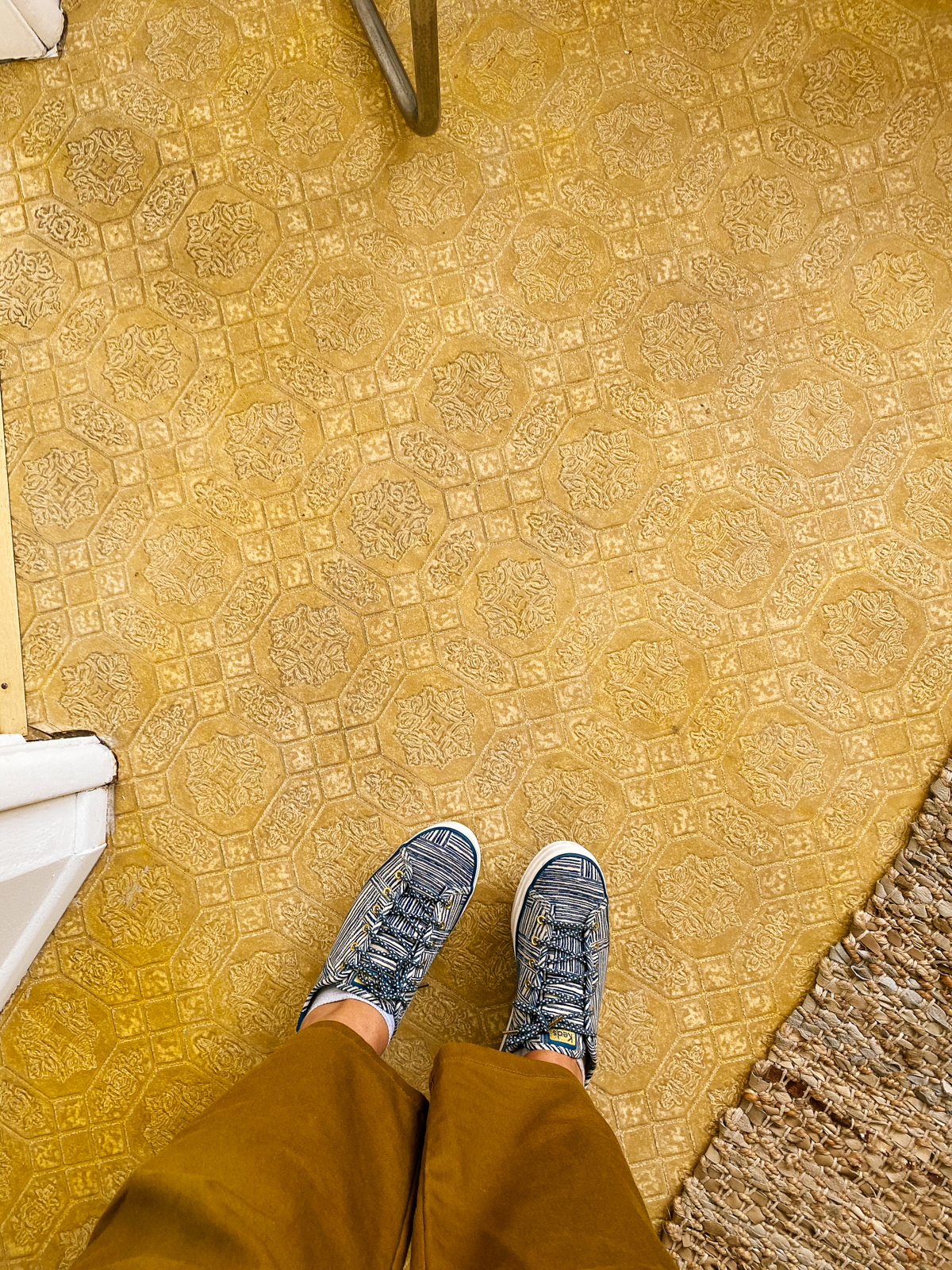 I feel like these vintage vinyl floors, in what will be my home office, have a lot of stories to share.
The house has so many charming little details. I'm definitely going to take inspiration from them as we remodel the interior.
A patchwork of floors to contend with…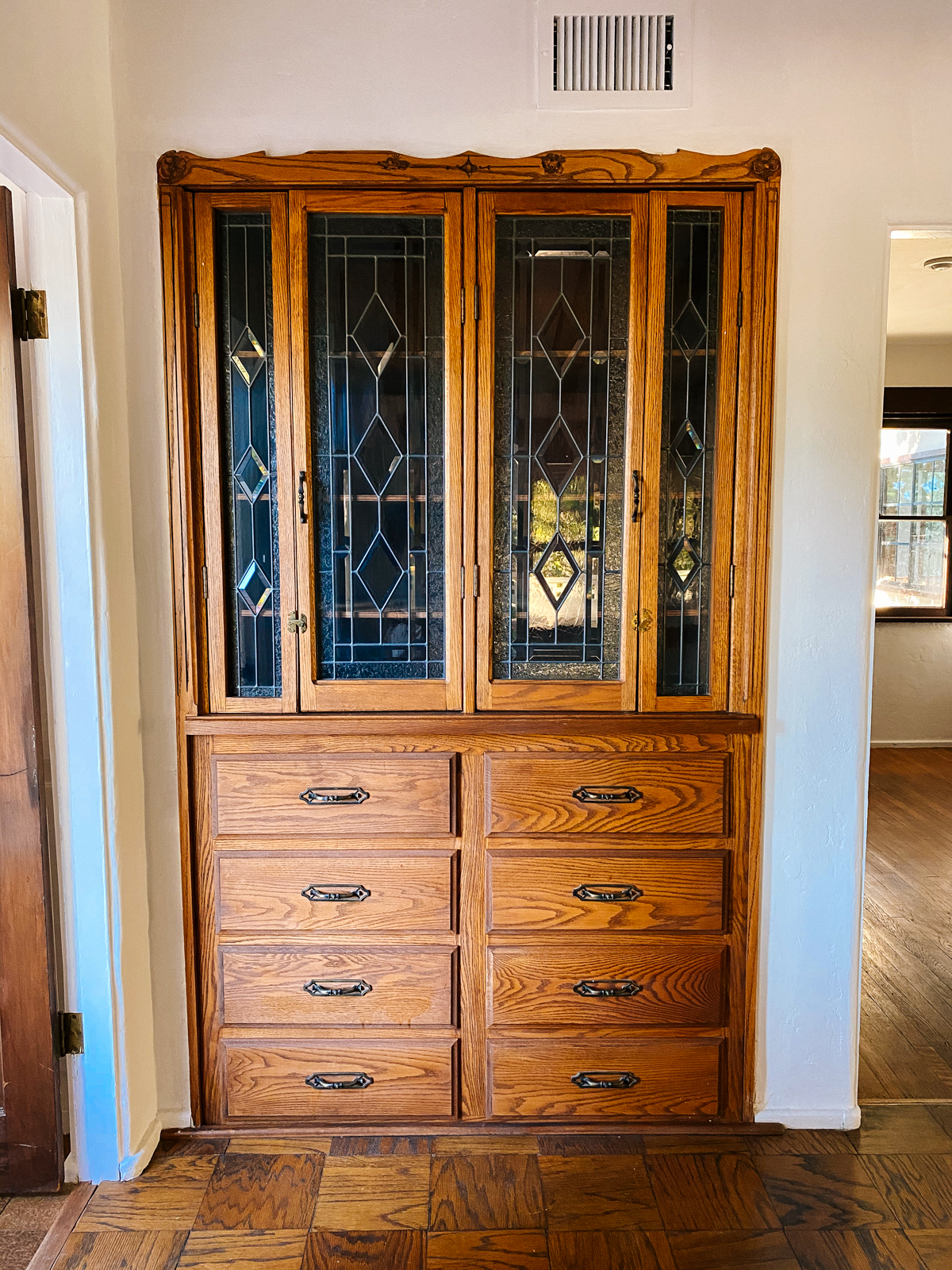 Lots of details that I want to live with for a bit before deciding what to do with…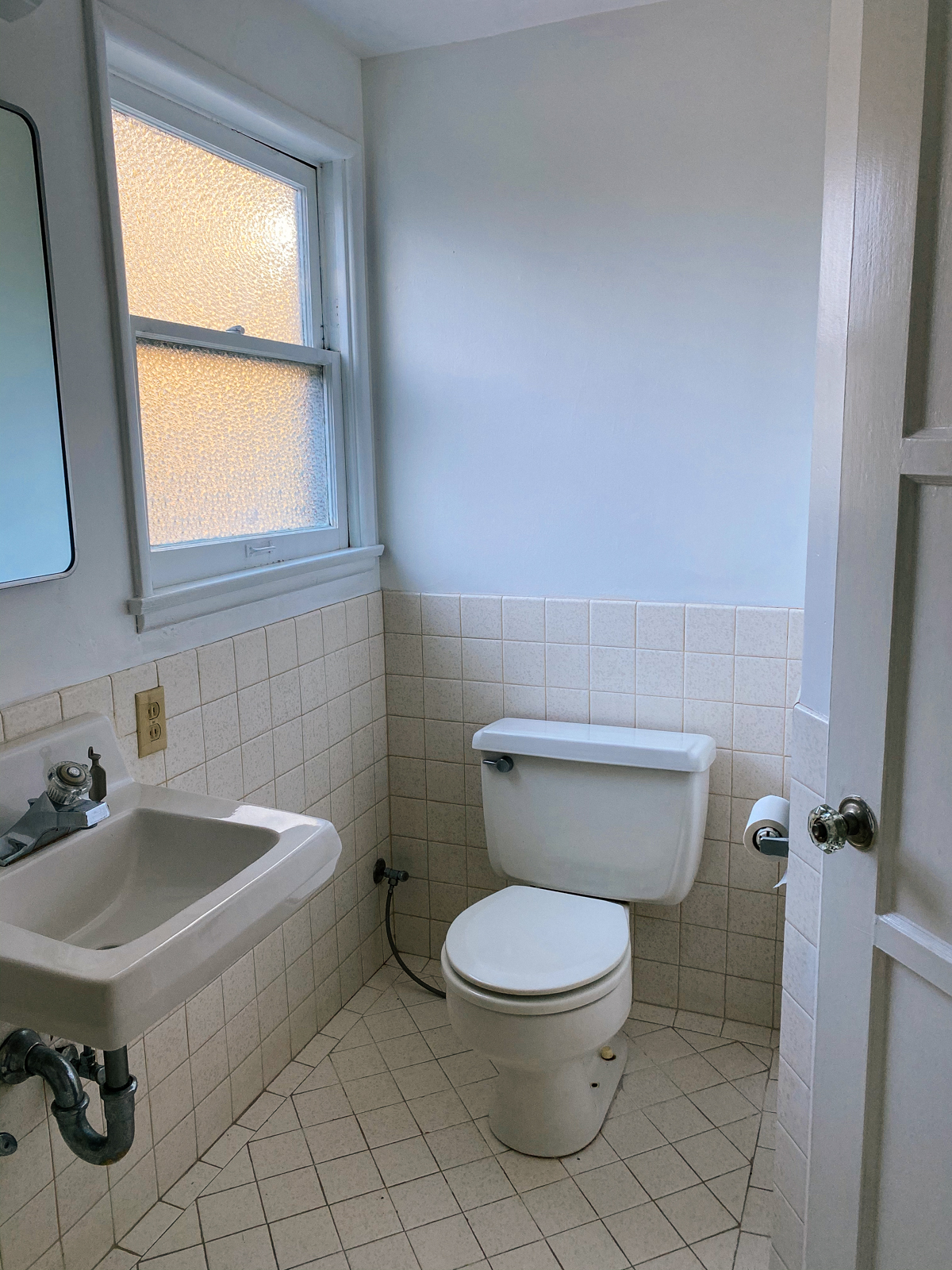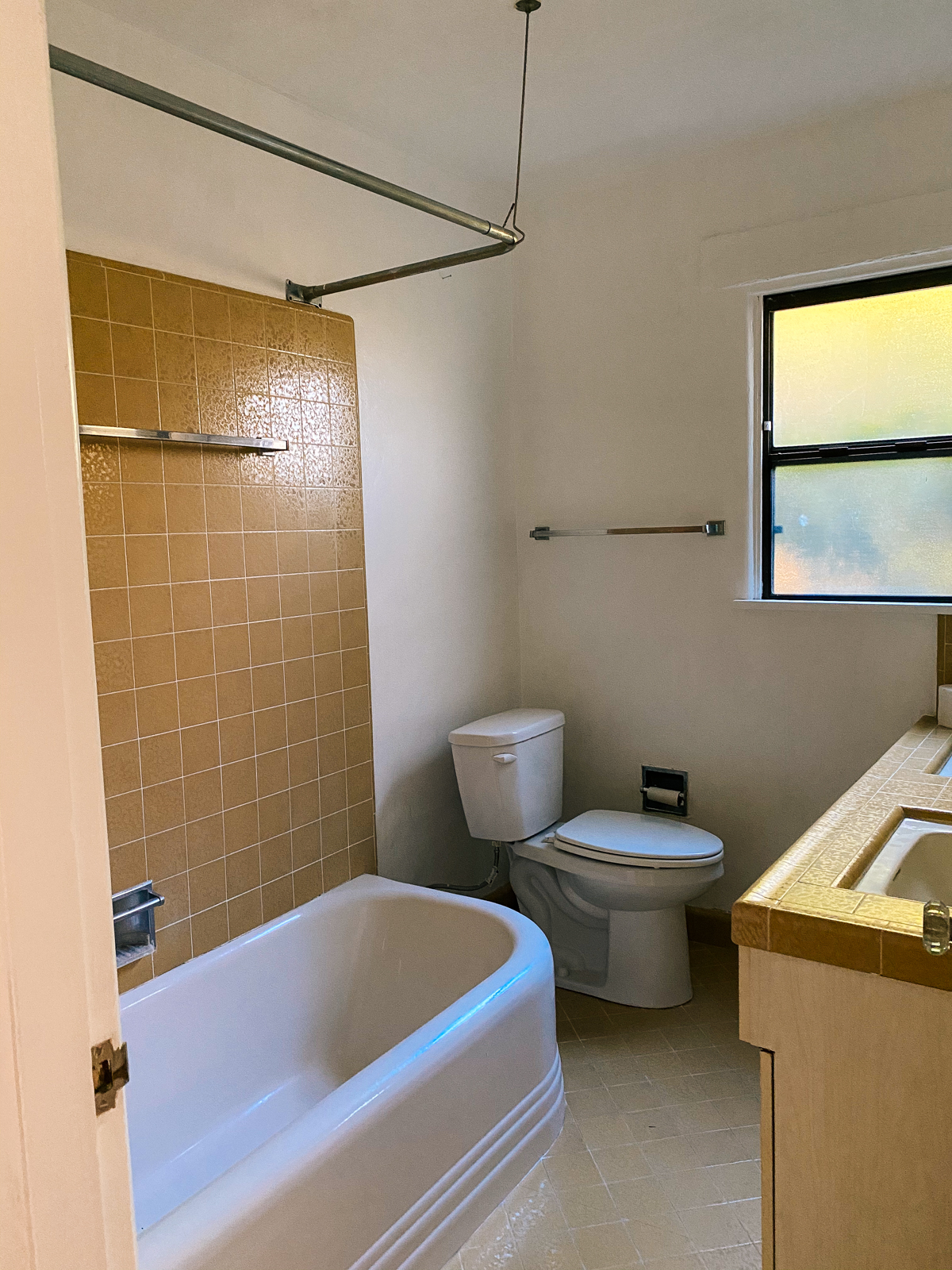 All the bathrooms need TLC too–You can't imagine how much fun I'm going to have transforming these spaces into little colorful universes all their own.
Over the next weeks and months I will share more peeks and we will begin to transform this #JungalowByTheMountain into our dream home. Be sure to follow along on my IG where I'll document the process and share learnings along the way (with intermittent updates here on the blog when I can swing it!). I am truly excited and eternally grateful to have a new canvas to love on and in, and one that (god willing!) will be a canvas for many, many years to come. With love and hugs and Dragon Trees, xxx~J